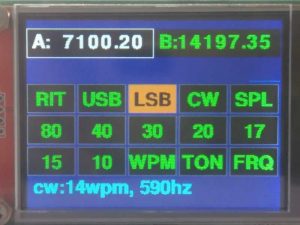 VFOs  The VFOs A and B are switch by simply touching on either of them. The white box shows the currently active VFO
RIT Touch the RIT to enable Receiver Incremental Tuning. Touch it again to turn it off
USB/LSB Touch on either of the buttons to choose the sideband
CW Touch to enable CW mode. In CW mode, you can also use your microphone's PTT for a transmitting a quick morse code message. Choose your keyer from the setup menu
SPL(IT). Touch to enable Split operating. Now,  the VFO A becomes the transmitting frequency and the VFO B is the receiving frequency. It is great for working DX!
Bands Touch on any band buttons to quickly switch to the band
WPM (CW) Set the CW sending speed of the keyer
TON(E) Set the sidetone frequency
FRQ Allows you to enter a frequency directly using a keypad shown below:
Shortcuts
The ubitx v6 has a few shortcuts:
If you tap on the tuning control, you can move the focus on the screen from one box to another. Tapping the tuning control again will simulate pressing that button.
If you tap on one of the VFOs, Fast tuning gets enabled where each step of the tuning encoder results in a jump of 50 KHz. Use this method for quickly getting from one frequency to another.
The radio switches automatically to LSB when operating below 10 MHz.
To operate CW, the setup menu allows you to chose between Iambic A,  Iambic B and a straight (hand) key.